End of Summer sale
Our award winning kit available for less. The end of Summer sale is your opportunity to renew your cycling wardrobe for less. Shop mens and women's sale items in the categories below.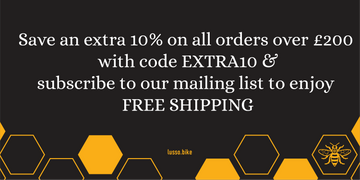 Join our mailing list for exclusive offers!
Our email subscribers are currently enjoying free shipping on all UK orders in the sale, plus early access to product launches and much more. To join the club sign up below.
Once subscribed, use code FREEDELIVERY
*only works once subscribed.
Shop the sale
Don't just take our word for it...
Our customers have spoken. Since 1982 we have been creating cycling clothing loved by riders in the UK and beyond. So don't just take our word for it!
Perform Carbon Bib Shorts are perfectly fitted and really comfortable. I wore them on a 100 miles ride, basically the whole day in the saddle. Cannot complain about anything. A perfect item for long distance rides. Highly recommended!
I collected a set of paragon bib shorts last week. Quality is superb, up there with the best. Made in Manchester too!
I have got several items of clothing from Lusso on the last year. All good quality, with decent zips and not shipped halfway round the world.
I ordered some waist shorts that were a size too big. Lusso quickly handled the return and an alternative replacement was organised due to the size down being out of stock.
I have been dealing with Lusso for a lot of years and their service and apparel is fantastic quality and its made in the UK. I will always buy Lusso stuff for my cycling.
The technical fabric, cut and design quality of my jersey is outstanding, and imho exceeds that of a certain leading high end brand beginning with R and ending in ha. This is 5 star quality kit, and the packaging and labelling are ace too. Those in the know choose Lusso.
Riding Staples
From cafe rides to hard hitting intervals, our spring and summer ranges use high performance fabrics to create kit suitable for any type of ride.